About Smiths Sectional Buildings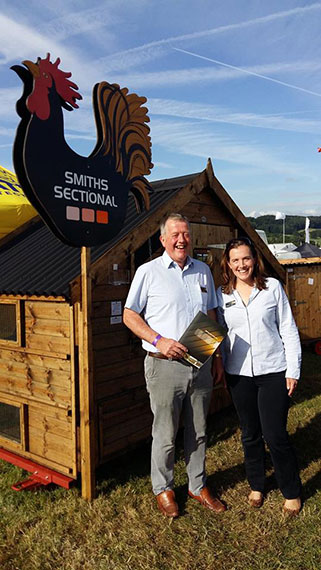 Thank you very much indeed for your interest in our quality wooden buildings for poultry, pets and farm animals. From small portable chicken arks and large shed-style chicken coops, to goat houses, pony shelters and dog kennels, we hope that you are able to find what you are looking for. If not please do not hesitate to contact us.
I am Philippa, I have been working in the business with my parents since we bought it off Clive Smith in February 2004. I manage the office, orders, deliveries, marketing, making etc. The general Dog's body! My mum, Dorothy, helps me in the office with the accounts and decision making, but she's also amazing at looking after my children whilst I am working. Then there is Dad, Nick, who draws any complicated building plans for the chaps, helps with the quotes, spreads paper everywhere in the office. We then have our wonderful team of chaps who make the buildings and deliver and assemble them around England and Wales. They are simply fantastic and we are frequently told by customers how amazing they are and how lucky we are to have them!
We are a farming family, Dad, my grandfather, his grandfather etc have been farming for donkeys years, but in the very hard years in the early 2000s Dad started looking for a business to run alongside the farming. Something that he felt he could turn his hand to without getting too far away from the countryside etc. So we converted our cattle buildings into workshops and after 18 months of commuting to Nottingham we managed to move the business back home to Ashley.
The business has gone from strength to strength and we are so lucky that we have very loyal customers that appreciate the quality and workmanship that has gone into making the buildings. We mainly specialise in the chicken and duck houses, but we also make field shelters, dog kennels, aviaries, goat houses etc. Most of our work is bespoke, mainly small tweaks in size or positioning of doors etc. But all the same, each building is custom made to order.
Our delivery timescale fluctuates from 3 - 6 weeks depending on what building it is and how busy we are. Our fantastic delivery team are all over the country every day, delivering handmade chicken coops and animal houses everywhere from our local counties, Staffordshire, Shropshire and Cheshire to Hertfordshire, Buckinghamshire and Cambridgeshire. I tend to organise 2 - 3 deliveries for them to do in a day within an area. Sometimes we are putting them up for customers and sometimes we are dropping them off and leaving them with instructions for some team building!
All the timber we use is FCS sustainable timber and all the buildings are made here on the farm. If you have any questions or would like any help choosing the right building please do not hesitate to contact us and we will do our very best to help. You can ring me, Philippa, on 01630 673747 or email.