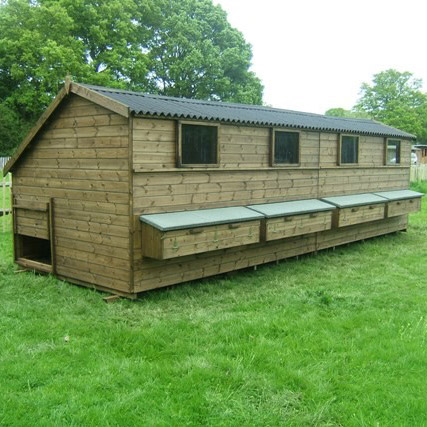 Large Traditional Chicken House
The Charnwood is a traditional wooden chicken house. The unit is 7' high so that you can walk in to it and stand fully upright. There are traditional wooden nest boxes on the front of the hen house, and perches with a droppings board underneath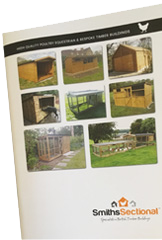 Request Brochure
The Charnwood
The Charnwood
The Charnwood is a traditional wooden chicken house. The unit is 7' high so that you can walk in to it and stand fully upright.
There are traditional wooden nest boxes on the front of the hen house, and perches with a droppings board underneath inside.
The hen house can be easily cleaned out with shutters on the back, and removable perches inside. The chicken house has plenty of light and ventilation with sliding glass windows on the front. There is a large pop hole on each end of the chicken shed to let the chickens out.
The Charnwood chicken house is made in 7 different sizes to house from 50 hens up to 300 hens.
The Charnwood
| Item | | Internal Floor Area (m2) | Run Area (m2) | Max. Internal Height (m) | Moveable | Nests | Nest Type | |
| --- | --- | --- | --- | --- | --- | --- | --- | --- |
| | | 5.9348 | - | 2.07 | No - Optional Metal skids | 6 | Wooden | |
| | | 7.4948 | - | 2.07 | No - Optional Metal skids | 8 | Wooden | |
| | | 9.029975 | - | 2.07 | No - Optional Metal skids | 10 | Wooden | |
| | | 11.1808 | - | 2.07 | No - Optional Metal skids | 10 | Wooden | |
| | | 16.96775 | - | 2.07 | No - Optional Metal skids | 12 | Wooden | |
| | | 22.608 | - | 2.07 | No - Optional Metal skids | 20 | Wooden | |
| | | 34.0515 | - | 2.07 | No - Optional Metal skids | 30 | Wooden | |