The Thicket Handmade Wooden Chicken Coop for Sale UK
Quality Chicken Coop and Run for sale UK. This wooden hen coop is suitable from 6 - 18 birds. Buy as walk-in, chicken house on wheels or with portable handles.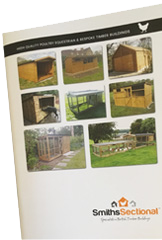 Request Brochure
The Thicket
The Thicket
The Thicket Wooden Chicken Coop and run is one of our most popular chicken houses. It is very sturdily built and is also very attractive. Our standard sizes house from 6 to 18 chickens, but we offer bespoke sizes in this custom chicken coop range.
The Thicket chicken house has an integrated run, with carrying poles so that the chicken coop is portable. The High House offers a walk in chicken coop option, whilst the Mini Thicket is our small chicken coop option in this attractive range. The Thicket has a black corrugated roof covering the whole building so it gives the chickens plenty of shelter. This hen house also has a ventilation hatch to keep the air moving. We can make the buildings with longer runs to give the chickens more room. The Thicket can also become a chicken coop on wheels, as we have started to make this heavy chicken house with optional wheels.
All our chicken coops are handmade to order and are for sale online and over the telephone. We deliver this chicken coop across England and Wales.

The Thicket
| Item | | Internal Floor Area (m2) | Run Area (m2) | Max. Internal Height (m) | Moveable | Nests | Nest Type | |
| --- | --- | --- | --- | --- | --- | --- | --- | --- |
| | | 1.08 | 2.9768 | 0.78 | Lift | 3 | Wooden | |
| | | 1.32 | 3.9528 | 0.86 | Lift | 4 | Wooden | |
| | | 1.32 | 3.9528 | 0.86 | Lift | 4 | Wooden | |