Delivery Information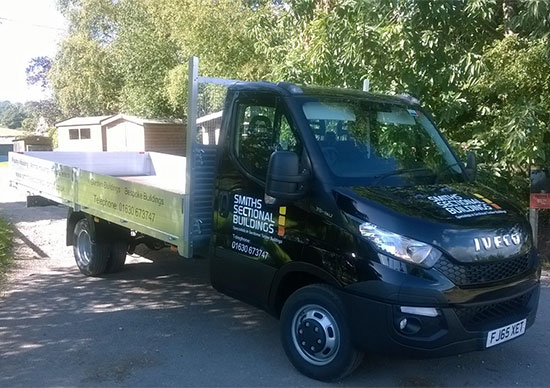 We deliver all the buildings using our own transport and friendly, efficient delivery team to ensure our products do not get damaged in transit. All the buildings are delivered in flat sections and we assemble them onsite if you have selected our assembly service.
The buildings are handmade to order and delivery currently takes 2-3 weeks from order to delivery. Please speak to us in the office if you require a building very quickly on 01630 673747, we always do our best to help if we can. When we have your building ready we will be in contact to inform you of the delivery date. Please let us know if there are particular days that are not convenient, or if you have a holiday booked. We do group together several deliveries in an area at a time so we cannot promise to be able to accommodate your delivery requirements, however we will do our best.
Our delivery team set off between 5 - 7am in the morning and aim to get all deliveries made in the morning so they are on their way back to Shropshire to load up for the next day in good time. We ask that if you are preparing a base for your building that you ensure that this is ready before we arrive so that our team are not delayed. If we are assembling the building we need to get within a reasonable distance of the base for health and safety reasons. Please see the picture of our van which is a 3.5 tonne long wheel based transit van. If we cannot get close to the site our assembly team will have the authority to leave the building in flat sections for you to get to the site and assembly yourself. In this event the assembly charge will not be refunded. We are not able to offer to come back to assemble once you have the panels in position.
If your site has difficult access please ensure that you have contacted us prior to delivery to discuss this so that we can assess whether we are able to offer the assembly service. If we are not assembling your building we ask that you are there to help our driver unload, he will help you stack it in a suitable location close to our vehicle.
Delivery Costs
Our delivery costs are based on postcode and weight of the building purchased. Please contact us if you require a quotation for delivery into London, to Scotland or any of the Islands before ordering. Please note, the PO postcode does not include the Isle of Wight.
You can get a delivery price for all other locations by clicking 'Get Delivery Estimate' in your basket, or at checkout before you purchase.