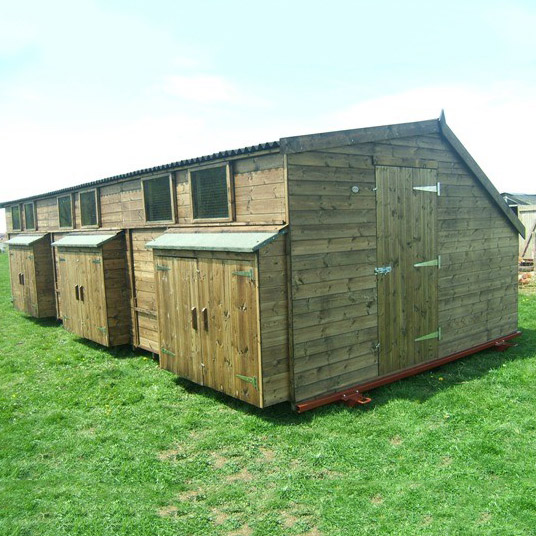 The Needwood Free Range Chicken House – Smiths Sectional
Quality wooden poultry house for 100, 200 or 300 hens. This large walk-in shed-style chicken coop is on metal skids to make is fully moveable, with metal roll away nest boxes for clean eggs.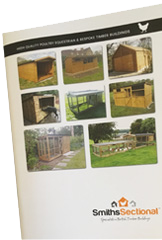 Request Brochure
The Needwood
The Needwood
We make our Needwood wooden free range poultry house in three sizes to house 100, 200 and 300 chickens. This walk-in chicken shed includes metal roll away nest boxes to keep the eggs clean, and metal towing skids so that the chicken house can be moved around the field. Inside there is a large bank of perches for the chickens, these hook up out of the way for cleaning out the chicken house. The poultry unit has plenty of sliding windows for ventilation and light.
If you're looking for commercial chicken sheds for sale in the UK, this large moveable chicken coop is really popular with medium sized commercial egg laying enterprises that want to keep that traditional feel.
We can also modify the size of our Needwood to suit client requirements, in the past we have made them to house 127 chickens, 252 chickens and 500.

The Needwood
| Item | | Internal Floor Area (m2) | Run Area (m2) | Max. Internal Height (m) | Moveable | Nests | Nest Type | |
| --- | --- | --- | --- | --- | --- | --- | --- | --- |
| | | 11.89385 | - | 2.07 | Yes on metal skids | 18 | Metal Roll Away | |
| | | 24.19015 | - | 2.07 | Yes on metal skids | 36 | Metal Roll Away | |
| | | 36.28645 | - | 2.07 | Yes on metal skids | 54 | Metal Roll Away | |